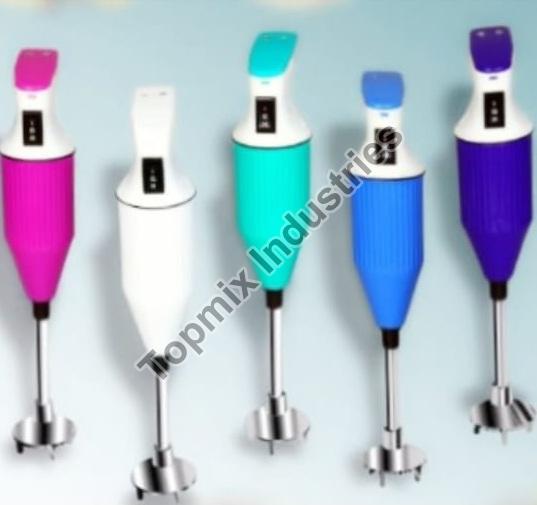 A blender is a kitchen appliance useful to mix, crush, and make a puree of foods and other substances. A stationary blender consists of several blender containers with a rotating metal blade at the bottom. The electric motor controls the whole system of a blender.
Some powerful blenders crush hard ice and other frozen foods. This blender can grind semi-solid ingredients such as fruits and vegetables. Many people use a blender for blending cream, milk, and sweets.
What is a Hand Blender?
A hand blender is a special type of stick blender useful in the kitchen to blend different ingredients in the container. A larger hand blender is also useful for commercial purposes and household purposes. The electric motor controls the hand blender's function, which is essential to cut hard foods and ice.
There are multiple attachments available with a hand blender useful for different food processing. For example, hand blenders useful for household purposes are very effective for making smoothies and juice.
The Uniqueness of the Hand Blender
Atime-saving method is a hand blender that makes your work easy in the kitchen. With this unique and useful appliance, you can easily make your favourite dishes without any problem. A hand blender is a secret appliance useful in the professional kitchen. You can get huge benefits if you buy any classic portable hand blender for your smart kitchen.
Benefits of Using Hand Blender
The enormous benefits of using a hand blender in the kitchen are as follows-
1. A hand blender is small and portable and can help you prepare different dishes. Even due to its small size, you can store it anywhere in the kitchen. Even some hand blenders have multiple parts that you can fix easily.
2. A hand blender is versatile in nature. It is ideal for blending food items and useful for cutting foods into slices. You can use it for salad dressing and soup preparation.
3. The hand blender doesn't make any sound. Thus, it doesn't disturb others. Likewise, the sound that is generated from the hand blender doesn't disturb others. This unique kitchen appliance is also very unique to make different types of soups.
How to Choose a Classic Hand Blender?
When you decide to buy a classic portable hand blender, you should consider the following factors-
1. A perfect hand blender can perform different things that a heavyweight blender cannot perform. For example, a hand blender can whip cream, butter, salad dressing, fruit smoothies, pesto, mashed potatoes, baby food, and sauces.
2. An authentic blender works like a mini food processor
3. If you buy a washable blender, it can help you maintain healthy hygiene. The stainless-steel hand blender is easy to clean, and it is very much durable.
In the market, you can get differently priced hand blenders. Try to buy the best quality hand blender as per your choice and requirement. You can visit several online stores to find the best quality hand blender.